Evidence does not care about God or not-God. Evidence simply is what it is!
Bogie as Sam Spade
The hard-boiled detective Bogart portrayed in movies like The Maltese Falcon and The Big Sleep was a guy who had "been around" and, while he was in possession of a moral compass, didn't always follow it and often revealed a soft spot for dames or decent fellas down on their luck. But Bogie also had a bulldog determination to unveil the truth at all costs. I hope you will want to be a Sam Spade in your own personal life and will apply investigative science to your beliefs and logic as well. If you will be a critical thinker and be willing to investigate, you will hit dead ends and wrong turns now and again, After all, it took Edison approximately 1,000 failed tries before he hit upon a filament which would actually power his incandescent light!
Darwinists, Creationists and Intelligent Design scientists all have the same evidence. It is how the evidence is viewed and then used to make hypotheses and theories that differentiate them. This should be pretty simple to understand. Rock layers and fossils and cell structures and DNA constructs are just what they are. Men come along and bring both reasoning and worldviews to the evidence. Thus, two scientists can carefully study the same geological structures or the same organism and reach vastly different conclusions about how they came to be. Origins science is the application of forensics to existing evidence.
Investigative science involves mostly testing and eliminating what cannot be true to eliminate possibilities until only one likely possibility remains. At least it used to work this way until we discuss Darwinism. Darwinists have abandoned standard scientific methods to accommodate their metaphysical need to eliminate God. So the Law of Biogenesis, which has never been disproved, has been ignored and the Laws of Thermodynamics have been ignored and the Laws of Statistics have been ignored in order to allow what has been discarded by the normal rules of science to come back into the discussion and be accepted on faith. Darwinism is a faith rather than a science.
Basil Rathbone made a fine Sherlock
Forensics is fairly straightforward in one sense. One does not try to prove what is true, but rather one seeks to demonstrate what is not true and then the remaining answer is likely to be right. In the case of a crime, suspects are eliminated one by one until the most likely suspect is identified and charged. The Detective Novel is a popular genre, one that most people who read fiction have at least tried to explore. From Wilkie Collins' exquisite
The Moonstone
,
which T. S. Eliot described as the first and greatest English detective novel, and which remains a classic of the genre
(
Pictures of Collins here)
to Arthur Conan Doyle's popular Sherlock Holmes novels to the latest modern thrillers written by James Patterson or Patricia Cornwell or John Sanford, detective novels have been written with fly-on-the-wall aspects, first person or second person and a
ll

other conceivable perspectives
,
from the experiences of detectives, lawyers, psychologists, pathologists and simply interested non-professionals who have the gift of writing fiction and share it with the world.
You can get it on Amazon
Television and movies have taken the genre and run with it. So most folks are familiar with the investigative process involved with solving crimes and we will use that to understand origins research. Let's look briefly at how a detective works, with the realization that origins science is like detective work, and then consider what has gone so terribly wrong.
Detectives collect information like journalists. They come to a crime scene and want to know who, what where, when and how. They would like to understand why the crime happened as soon as they can. But that usually comes later. So let us consider a dead body has been found in an alley, shall we? We'll begin by capitalizing the elements of preliminary investigation.
WHO is the body, of course. If it is a natural death, then it ceases to be a crime scene and instead simply the last repose of a person who has had a heart attack or other natural death. The body must be identified of course and, if it appears that foul play was involved, then the WHO that perpetrated the crime is going to be at the end of the forensics trail, should the detectives successfully follow the evidence. Other WHO will include possible witnesses plus friends and family.
For the sake of this post we will say that the detectives find that the victim has apparently been stabbed to death. The blood surrounding the body and the big wounds in the body itself makes this aspect of the crime apparent and makes the investigation focused on a murder right away.
WHAT is the body and all objects found on, in or around the body that can be related in any way to the crime. It is also the crime itself. WHAT has turned out to be a murder rather than an accident or a natural death so WHAT begins as the evidence that is apparent at the crime scene but there will be more WHAT gathered at other locations related to the victim and also the suspect(s) that are considered.
WHERE is the alley and also exactly where the body is in relation to all things in the alley as well as what businesses, homes, gangs, and other aspects of the neighborhood. All that surrounds the alley is part of the WHERE. It may be that the initial crime scene will turn out to be simply a dumping site or a last refuge of an injured victim before death. So WHERE also may be more than one location as the investigation continues.
WHEN will be determined by investigation of the body and also information gathered from witnesses. WHEN will involve the last few hours of witnesses who saw the victim alive and also anyone who saw or heard anything involving the death in any way.
HOW has already been determined by the wounds on the victim, stabbing. More HOW involves the depth of the wounds and their angles so that clues concerning the nature of the weapon, if not yet found, and the murderer can be analyzed.
WHY? Now we are bringing in the second stage of crime solving that is known as MOM - MEANS, OPPORTUNITY AND MOTIVE. WHY will be intrinsic to the MOTIVE.
MEANS, OPPORTUNITY AND MOTIVE
The murderer(s) must have the MOM to have committed the crime.
Now we will dispense with all the capital letters and get to the heart of the matter. Detectives research the who, what, when and where of the crime scene, the victim and follow the lead of the clues gathered initially from the area, any witnesses and the body. That a murder has occurred was assumed at the crime scene and confirmed by the medical examiner's office. A pathologist has confirmed that the victim died of blood loss and damage to internal organs caused by deep stab wounds caused by a sharp object that, by the evidence of the wounds, was a blade of about 6 inches in length shaped like a military combat knife with a sharp blade and a serration on the spine (the opposite side of a single-bladed cutting instrument). The marks also turn out to reveal that the knife had a guard that left marks on the body. So a knife that looks something like this is expected to be the murder weapon.
credit
So you can easily construct scenarios in which someone has stabbed someone else to death. The detectives have to gather information and follow their clues, using WWWWH to help discover who had the MOM to do the deed and hopefully why (although sometimes why is, as in the case of the sociopaths who take multiple lives, just an uncomfortable because). Perhaps you have seen shows or movies or read novels that start off something like this scene?

Once detectives have gathered all evidence available and eliminated all possible perpetrators to settle on one or two people, it is then in the hands of the prosecuting attorney to take the case to court. Court will be a different setting. While detectives were eliminating suspects until one or two are left by ruling out other possible criminals, the attorneys will now have to assert the positive evidence that points towards the suspect(s) as the murderer(s) beyond reasonable doubt.

Your mind is the courtroom. Darwinists, Creationists and ID proponents have presented their suspects to you. Darwinists credit blind chance, Creationists give the credit to God and ID'ers simply state that it had to be a Designer and not chance that did the deed of creating everything. You are to weigh the evidence, knowing where it comes from, and make the decision. But you have a hopefully long life to mull over all the evidence and the assertions of the prosecutors. Keep in mind that the prosecutors themselves are part of the decision. Are they witholding evidence? Have they twisted the evidence or made unsupported statements? The reliability of the prosecutor is part of your decision-making process.

Hopefully you are receptive to the following two articles, especially the last one on detecting design. Consider them and then come back and ask yourself this question:
What if the detectives in my example given are precluded by their Chief from concluding the victim was murdered but instead had to have died by some natural means, either a natural cause or an accident? How would they explain this, how many strange added corollaries would they have to bring into play to explain a natural death for the victim? Did he fall onto a display of combat knives and then stumble out into the alley? Did a freak storm send weird hailstones shaped like knives flying through the air and killing him? How far would the detectives go to come up with a plausible scenario? Could you imagine Shaft settling for that, since he was a bad (shut yo mouth!)...?
Now (if you read the posts below) you see where Darwinism has found itself - evidence has undercut the entire hypothesis and it has become ridiculously fantastic nonsense! Evidence has led science to recognize that the "crime" of creation was perpetrated by Someone. Design is not just an escape valve for complexity, it has become utterly obvious as we have detected it by forensic science and investigative methodology. This should be apparent to you if you read both posts below.
The first is from
Creation-Evolution Headlines.
The second is from the
Intelligent Design and Evolution Awareness Center.
As promised, a series of evidence-filled posts from a wide variety of sources continues:
Explanatory Filter in Action: Fairy Circles in Africa
The

"Explanatory Filter"

devised by William Dembski (see

IDEAcenter.org

) includes intelligent causes as a last resort, once natural law and chance are ruled out. Often, it takes time to work through the filter. When the crop circle craze hit, the simplicity of the circles suggested a natural cause at first. But then the patterns got more and more elaborate, exhausting the probabilistic resources of chance or natural law (or both) to account for them. In addition, they exhibited complex specified information, like mathematical forms only minds would comprehend. This shows that scientists intuitively use the filter, even if they don't accept Dembski's intelligent design theory.

A test case is underway in Africa.

Live Science

reported that researchers are stumped at mysterious circles out in the middle of nowhere, 111 miles from the nearest village.

"In the sandy desert grasslands of Namibia in southern Africa, mysterious bare spots known as "fairy circles" will form and then disappear years later

for no reason anyone can determine

,"

reporter Stephanie Pappas wrote.

"A new look at these strange patterns

doesn't solve the wistful mystery

but at least reveals that the largest of the circles can linger for a lifetime."

Geometric circles are familiar in the plant kingdom. Some mushrooms grow in circles called

"fairy rings."

Some superstitious people coming across these near-perfect circles of mushrooms jumped to the conclusion that mystical spirits were at work in the forest (thus the name). They didn't use the explanatory filter correctly; it shows that rushing to a design inference can be unwarranted. Some grasses and bushes can also be found growing in circles. The usual explanation is that the organism moves outward in all directions as nutrients in the center are exhausted. That explanation, though, does not fit the African fairy circles. They cannot yet be explained by nutrients, toxic vapors, termites or other natural causes so far examined.

"

The why question is very difficult,"

said study researcher Walter Tschinkel, a biologist at Florida State University.

"There are a number of hypotheses on the table, and the evidence for none of them is convincing."

This is an example of the Explanatory Filter in action (though Tschinkel should have said the

how

question, not the

why

question–the province of philosophy). Natural causes are the default, and will most likely be found for such simple geometric shapes. These circles, ranging from 12 to 40 feet in diameter, are not perfect, some are oblong, and they appear randomly spaced. Still, since it is a

"persistent enigma,"

scientists cannot and should not rule out design (i.e., that unseen tribes have a purpose for clearing the ground in an unusual way).

Researchers are treating this like a puzzle-solving expedition that, even though unlikely to be solved soon, will yield an answer eventually.

"That's science, isn't it?"

Tschinkel remarked.

"If you knew the answer ahead of time, it wouldn't be much fun."

There's nothing unusual about approaching a scientific puzzle Dembski's way. The Explanatory Filter is an intuitive puzzle-solving method that can be mathematically formalized, as Dembski has done. The controversy comes when evolutionists do think they know the answer ahead of time, and it is "not design." Yet they will turn around and accept the design inference for crop circles and

SETI

.

We believe a natural explanation will be found for these African "fairy circles," but the goal of every scientist should be to keep an open mind, consider all the reasonable causes (including intelligent causes, which we can determine from uniform experience and probability), and to follow the evidence where it leads.



Teaching Aid: Present images of circles found in nature to students, and help them determine which ones have natural causes and which have intelligent causes, using the Explanatory Filter. Examples could include: (1) Mushroom fairy rings, (2) Native American medicine wheel patterns in the desert, (3) Circular farm fields as seen from aircraft, watered by radially rotating irrigation pipes; (4) Stonehenge; (5) planetary nebulae; (6) Mars rocks with circles etched on them cut by the

NASA

rover's cutting tool; (7) circles in sand made by bending grasses blown by winds; like a compass; (8) radiohalos in granite. Finally, show the Namib "fairy circles" as an example of explanatory work in progress.
Exercise: Find historical examples of secular scientists or evolutionists allowing for an intelligent design inference after ruling out natural law and chance (

SETI

being a classic example). List some scientific fields that routinely infer intelligent causes (e.g., archaeology).

~~~~~~~~~~~~~~~~~~~

The Short Answer: We detect design by looking for the tell-tale signs that an intelligent agent acted. Intelligent agents tend to produce specified complexity when they act. We can then seek to detect design by looking for that specified complexity. Using an "explanatory filter" helps us to use normal logic to infer where design was a cause involved in creating an object. Design also could makes other predictions which can also help us to detect design.

The Long Answer:

When intelligent agents act they produce specified complexity. We know this because we understand that when intelligent agents act, they use choice. An essay by William Dembksi lays out in detail how we can understand the products of intelligent design by examining how designers work:




To see why CSI [complex-specified information] is a reliable indicator of design, we need to examine the nature of intelligent causation. The principal characteristic of intelligent causation is directed contingency, or what we call choice. Whenever an intelligent cause acts, it chooses from a range of competing possibilities. This is true not just of humans, but of animals as well as extra-terrestrial intelligences. A rat navigating a maze must choose whether to go right or left at various points in the maze. When SETI (Search for Extra-Terrestrial Intelligence) researchers attempt to discover intelligence in the extra-terrestrial radio transmissions they are monitoring, they assume an extra-terrestrial intelligence could have chosen any number of possible radio transmissions, and then attempt to match the transmissions they observe with certain patterns as opposed to others (patterns that presumably are markers of intelligence). Whenever a human being utters meaningful speech, a choice is made from a range of possible sound-combinations that might have been uttered. Intelligent causation always entails discrimination, choosing certain things, ruling out others. Given this characterization of intelligent causes, the crucial question is how to recognize their operation. Intelligent causes act by making a choice.
CSI is a reliable indicator of design because its recognition coincides with how we recognize intelligent causation generally. In general, to recognize intelligent causation we must establish that one from a range of competing possibilities was actualized, determine which possibilities were excluded, and then specify the possibility that was actualized. What's more, the competing possibilities that were excluded must be live possibilities, sufficiently numerous so that specifying the possibility that was actualized cannot be attributed to chance. In terms of probability, this means that the possibility that was specified is highly improbable. In terms of complexity, this means that the possibility that was specified is highly complex. All the elements in the general scheme for recognizing intelligent causation (i.e., Actualization-Exclusion-Specification) find their counterpart in complex specified information-CSI. CSI pinpoints what we need to be looking for when we detect design. (

Intelligent Design as a Theory of Information

by William Dembski)
In summary, Dembski notes that intelligent agents can choose from one of many competing possibilities. If the choice made is unlikely to occur and sufficiently complex, then we can attribute that choice to design. This comes from our understanding of how intelligent agents operate--not from a negative argument against evolution. In
The Design Inference
, Dembski lays out a three-part "user-friendly" explanatory filter which we can use to detect intelligent design: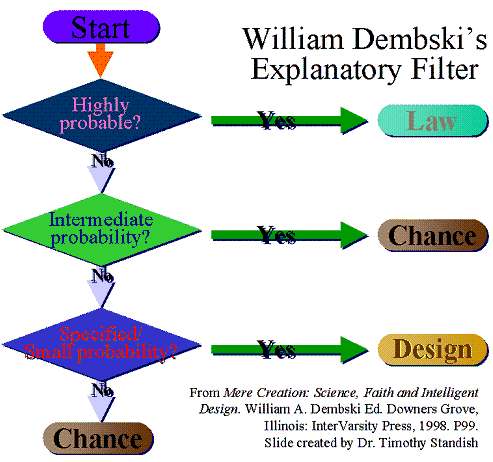 This explanatory filter recognizes that there are three causes for things: chance, law and design. The premise behind the filter is the positive prediction of design that designers tend to build complex things with low probability that correspond to a specified pattern. In biology, this could be an irreducibly complex structure which fulfills some biological function. This filter helps ensure that we detect design only when it is warranted. If something is high probability, we may ascribe it to a law. If something is intermediate probability, we may ascribe it to chance. But if it is specified and low probability, then this is the tell-tale sign that we are dealing with something that is designed. In these high information-situations, intelligent design theorist Stephen C. Meyer also emphasizes why intelligent design is the right explanation:
"

"Experience teaches that information-rich systems … invariable result from intelligent causes, not naturalistic ones. Yet origin-of-life biology has artificially limited its explanatory search to the naturalistic nodes of causation … chance and necessity. Finding the best explanation, however, requires invoking causes that have the power to produce the effect in question. When it comes to information, we know of only one such cause. For this reason, the biology of the information age now requires a new science of design.



(Stephen C. Meyer,

Mere Creation

, pg. 140).





"

"Indeed, in all cases where we know the causal origin of 'high information content,' experience has shown that intelligent design played a causal role."





(Stephen C. Meyer,

DNA and Other Designs

)





"Intelligent design provides a sufficient causal explanation for the origin of large amounts of information, since we have considerable experience of intelligent agents generating informational configurations of matter."



(Meyer S. C. et. al., "The Cambrian Explosion: Biology's Big Bang," in Darwinism, Design, and Public Education, edited by J. A. Campbell and S. C. Meyer (Michigan State University Press, 2003

)
Intelligent design is thus a cause sufficient to produce the high levels of information, i.e. irreducible complexity, found in biology. Intelligent design is not merely a negative argument against evolution, but is inferred because of its positive predictions of how we understand designers to operate.
There are other examples of mutually exclusive predictions of design and descent, as is explained in the tables below. In each example, intelligent design is inferred because it makes positive predictions that match the evidence, despite the fact that descent makes the exact opposite prediction (which is not met by the evidence).
Inferring Intelligent Design using its Positive Predictions:
Table 1. Ways Designers Act When Designing (Observations):
(1) Take many parts and arrange them in highly specified and complex patterns which perform a specific function.
(2) Rapidly infuse any amounts of genetic information into the biosphere, including large amounts, such that at times rapid morphological or genetic changes could occur in populations.
(3) 'Re-use parts' over-and-over in different types of organisms (design upon a common blueprint).
(4) Be said to typically NOT create completely functionless objects or parts (although we may sometimes think something is functionless, but not realize its true function).
Table 2. Predictions of Design (Hypothesis):
(1) High information content machine-like irreducibly complex structures will be found.
(2) Forms will be found in the fossil record that appear suddenly and without any precursors.
(3) Genes and functional parts will be re-used in different unrelated organisms.
(4) The genetic code will NOT contain much discarded genetic baggage code or functionless "junk DNA".
Table 3. Predictions of Darwinian Evolution (Hypothesis):
(1) High information content machine-like irreducibly complex structures will NOT be found.
(2) Forms will appear in the fossil record as a gradual progression with transitional series.
(3) Genes and functional parts will reflect those inherited through ancestry, and are only shared by related organisms.
(4) The genetic code will contain much discarded genetic baggage code or functionless "junk DNA".
Table 4. Comparing the Evidence (Experiment and Conclusion):
Line of Evidence
Prediction of Darwinian evolution
Prediction from intelligent design
Data
Best explaining hypothesis:
1. Biochemical complexity
High information content machine-like irreducibly complex structures will NOT be found.
High information content machine-like irreducibly complex structures will be found.
High information content machine-like irreducibly complex structures are commonly found.
Design.
2. Fossil Record
Forms will appear in the fossil record as a gradual progression with transitional series.
Forms will appear in the fossil record suddenly and without any precursors.
Forms tend to appear in the fossil record suddenly and without any precursors.
Design.
3. Distribution of Molecular and Morphological Characteristics
Genes and functional parts will reflect those inherited through ancestry, and are only shared by related organisms.
Genes, DNA sequences, and functional parts will be re-used in different unrelated organisms.
Genes and functional parts often are not distributed in a manner predicted by ancestry, and are often found in clearly unrelated organisms.
Design.
4. Biochemical Functionality
The genetic code will contain much discarded genetic baggage code or functionless "junk DNA."
The genetic code will NOT contain much discarded genetic baggage code or functionless "junk DNA."
Increased knowledge of genetics has created a strong trend towards functionality for "junk-DNA"; examples of DNA of unknown function persist, but function may be expected or explained under a design paradigm.
Design.
There are thus various examples where design makes positive predictions, but Darwinian evolution coincidentally makes the exact opposite prediction. Design proponents do not argue against evolution merely because that is what proves design, but because in these special cases, the falsification of evolution also entails a matched positive prediction of intelligent design theory, because intelligent design predicts the exact opposite of evolution. We thus detect intelligent design through findings its positive predictions based upon the way we understand intelligent agents to operate.
The old "crop circle" craze fanned the curiosity of many, till humans were filmed making them. Now, scientists have a different circle mystery, and they're stumped.