Taking time to do something else tonight, so I will highlight good old Ian Juby and do Baraminology on Tuesday.
I wonder, if someone did find a track with both
a man and dinosaur print
together would Darwinists admit they were wrong?
link it so you can read it all.
"1)
Texas Fishapod fry!
Now I'm not a big fish eater, but I have to admit, the
first time I had Texas grilled Catfish, I loved it! So there's no
better way to start off the new year then with a good fish fry, only
today, we're going to fry some "fishapods."
Bad year for Darwin
Welp, we're just wrapping up the "year of Darwin," which was supposed
to be a celebration of Darwin's birthday, and his genius penned in his
earth-shaking book "Origin of the species." Problem is, it's been
a baaaad year for Darwin.
You'll recall in several newsletters from the past year (
="">1,
="">2
,
="">3)
that the mythological evolutionary tree has suffered repeated hacking,
uprooting, pruning and grafting. Well the subject of today's
first story lops off a major branch….again!
The find is "very old" fossil footprints found in Poland:
http://sciencenow.sciencemag.org/cgi/content/full/2010/106/2?etoc
http://www.guardian.co.uk/commentisfree/2010/jan/06/fossil-footprints-land-animal
(complete with nice video from Nature magazine)
Also, a nice video on the find:
http://news.yahoo.com/video/science-15749654/17504589
Supposedly
395 million years
old
, these footprints have
toes and are similar in many ways to large salamander tracks.
In layman's terms, what this means from an evolutionary standpoint is that
tetrapods
(four-footed, four-legged creatures)
were around 395 million years ago.
Telling another fishapod story
The evolutionary myth has tetrapods (land animals) evolving from fish -
hence the nickname
"fishapods"
- creatures
supposedly half-way
between a fish and a tetrapod
. So these were creatures
evolving
into
tetrapods
. Wikipedia has
a nice diagram of the "fishapods" and their supposed evolutionary
timeline: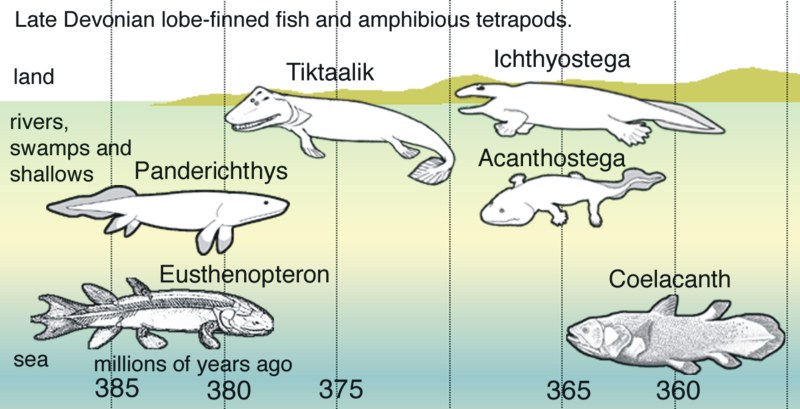 (image courtesy of wikipedia)
If you were paying attention, you'll notice that the Polish fossil footprints are
older
than
all
of the
fishapods! Waitaminit –
I thought the fishapods were supposed to be evolving
into
tetrapods
? But now we have evidence (by evolutionary standards) that
tetrapods were
already around
before any of the fishapods! It's purdy simple: your great-great-great-grandfather can't be your child. You'll notice that this single fossil footprint find just uprooted the tetrapod evolutionary tree.
So to help you grasp the significance of all of this, let's hop into the time machine and take a look at what's been said about some of these "fishapods."
Tiktaalik: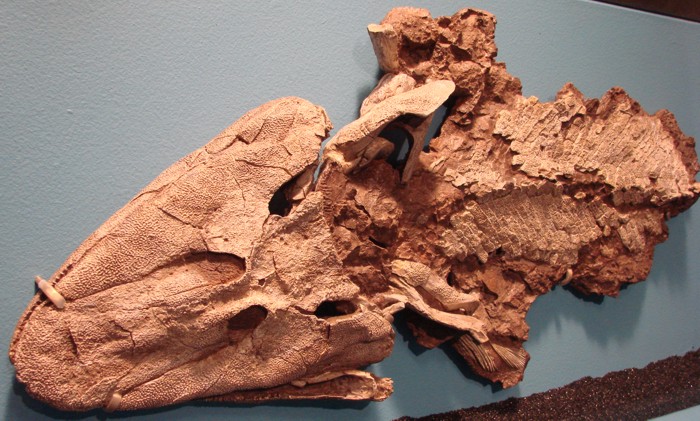 Cast of Tiktaalik fossil, on display at the Chicago Field Museum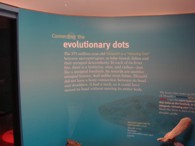 Interpretive plaque at Chicago Field museum – click on image to view
high-resolution version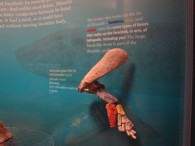 Homology plaque describing Tik's forelimb
It's just like yours!
It was only 2006
when
Tiktaalik
rosae
(aka "Tiki") was presented to the public with much fanfare. This is an incredibly important fossil for the evolution myth. Don't believe me?
In 2008 I was taken on a wonderful tour of the Chicago field
museum – wow. Of course, we homed in on the "Evolution hall"
which provided copious amounts of supposed evidence for
evolution (It actually provided a lot of wonderful evidence
for
creation!).
Tiktaalik
had quite a bit of space for itself in the Evolution hall. The
plaque (shown right, click on thumbnails to view high-res images) is
quite plain in its very bold claims:
"The 375-million-year-old
Tiktaalik
is a "missing link"
between sarcopterygian, or lobe-finned, fishes and
their tetrapod descendants
."
[Bold Emphasis and red text mine]
Notice the word "descendants?" In fact, the Field Museum made a very big deal of the bones of
Tiktaalik
to make their case – heck, the bones in its fishy fin are just like yours! Can't you see it? (see image on right, "Homology") I dealt with this bankrupt
argument from
homology
in a
previous newsletter
(see second entry).
I have to give them credit though: They at least called it's "leg" what
it was – a
fin.
A big deal was made about the fact that Tiki had its eyes on top of its
head. Ya, so does the
flounder
and
tarbot
– they're
fish.
Your point is?
First course of the meal: fishopods, second course: words…

But in case you're still missing the significance of the Poland fossil
footprint find, let's visit a few websites and see what they had to say
about the discovery of Tiki.
A Harvard University Gazette article
said:
"It would take several more seasons, and a move east to Ellesmere Island, before the researchers would find their prize:
a link between fish and land animals
that they would name
Tiktaalik roseae
.
Tiktaalik
would prove worth
the wait. When announced in April 2006,
the discovery was hailed as the long-sought "missing link,"
filling an evolutionary gap in the history of
how fishlike creatures first crawled out of the shallow rivers to take their place on land
….Still, Jenkins acknowledged that
Tiktaalik's
discovery
provides a stronger link between fishes and tetrapods, or four-legged land animals
."[emphasis mine]
BBC news
headlined their article
"Fossil animals found in Arctic Canada provide a snapshot of fish evolving into land animals, scientists say"
and went on to report:
"Before these finds, palaeontologists
knew that lobe-finned fishes
evolved into land-living creatures
during the Devonian Period. [uhhh....how'd they 'know' this? - IJ]…Professor Jennifer Clack, from the University of Cambridge, said
that the find could prove to be as much of an "evolutionary icon" as Archaeopteryx – an animal believed to mark the transition from reptiles to birds."
You remember Archaeopteryx
, don't you? One of the most famous intermediate fossils ever – supposed 'proof' that lizards evolved into birds, another fossil 'proof of evolution' which was also ungloriously
hurled out of the evolutionary tree last fall
.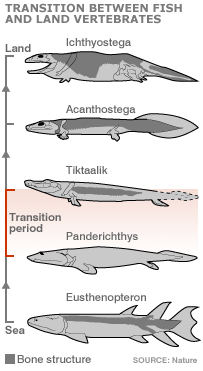 The BBC article reproduced the
diagram from the Nature magazine report on Tiki, and the diagram is
very telling (shown right):
You can't get around it – with titles like
"Transition between fish and land vertebrates,"
it's pretty obvious what they were claiming
about Tiki. And by the way – this entire chart just got thrown out the
window by this one find from Poland, because
land vertebrates were already around before Eusthenopteron!
An
MSNBC article
kicks off with a pretty drawing showing Tiki trying to walk up on land. Too late Tiki! Someone already beat you to it by about ohhhh….. 20 million years, give or take? The article goes
on to make the usual brazen claims associated with the discovery of an "intermediate fossil:"
I will quit here but I recommend you go read the
entire newsletter.
Ian Juby rides again~
~
Anyway, Ricky Tikky Taalik turns out to be a false alarm. We have similar animals around today. Heck, we have salamanders around today. I wonder what would happen with Darwinists if a
Mokele-mbembe is ever captured? I wonder what Darwinists could date a Snakehead fish if it was fossilized instead of swimming and crawling around looking for things to bite?
Frankenfish? circa 2002
And now in 2010
"
"Smile, you son of a bitch!"
— Chief Brody as he aims at the shark in
Jaws
Say hello to Frankenfish.
How'd you like that thing biting your ass? It can grow to 1.8 metres. The fish, I mean.
The savage, voracious, quick-tempered, razor-mouthed northern snakehead fish.
It's Asian but seems intent on conquering the New World. We're like a holiday resort with a jaw-dropping buffet.
Just when your chihuahua thought it was safe to go back in the water. This monster is known to inhale small mammals and shred human appendages.
"You wouldn't want to be in the water with it," Burlington biologist Becky Cudmore tells me. "It's as nasty as it looks."
And that's naaaaaaasty. Watch your toes.
This'll curl them: The northern snakehead can survive four days out of water, thanks to a primitive lung above its gills. AND IT "WALKS" ON LAND!
Aye, Capt. Quint, the slippery devil slithers from one stream or lake to another. It can "walk" for half a klick.
I kid you not.
I learned of this finned fiend in the Expositor, on Manitoulin Island, where I just bought a small waterfront lot, where I will now sleep with one eye open.
The paper warned of the looming danger to such species as the local whitefish.
Sure, Mikey, but this is some distant nightmare, right? A Hollywood plot? A bait-and-switch?
Wrong. Already, the northern snakehead is snapping at Canada's door.
Officials are trying to contain an outbreak in a few ponds and streams in mid-New York State. Poison and electrocution have been hit and miss. (They "walk," remember?)
Northern snakefish invaded the Potomac River near Washington, D.C., while George W. Bush was president, though this time you can't blame him.
Aquarium fanciers and live-fish markets are the usual suspects.
An 18-inch snakehead was pulled from a Chicago harbour five years ago — but it's believed (hoped) to have been a one-off.
At the time, a U.S. fisheries officer warned that northern snakefish "are going to affect the food chain from the bottom up. You need to stop them before it's too late."
Says Cudmore: "It's a vicious predator. I've seen pictures of fish that it has torn in two, completely sheared in half. You can see the bite marks.
"Native fish just aren't prepared for this."
Is it already too late for the Great White North? Will we kiss our bass goodbye?
Just a month ago, Quebec scientists shuddered when a giant snakehead — a bigger, meaner, but tropical version of the northern — was found dead on the shores of the Saint-Charles River.
It too is believed to have been an overgrown former pet.
Ontario has banned live snakeheads — for fun or food — but Cudmore bought one in Vancouver to study.
She spent a nervous night while it glowered in a bucket in her hotel room.
"It sank its teeth into the plastic and just wouldn't let go."
Next stop, the freezer. Snakeheads are a tasty treat in Asia.
"Actually, I'm allergic to fish," says Cudmore.
Odd trait for the woman who is top warrior in the federal fisheries department against the snakehead, Asian carp, and other invasive species.
She co-authored a study that declared a "high — reasonably certain" risk of northern snakeheads calling Canada home.
The study reports maximum lengths in Asia of 1.8 metres (5-foot-10!), though most adults top out at a metre.
Which, including teeth, is plenty.
We should all be allergic to this fish. If you catch one, kill it. MAKE SURE IT'S DEAD!
The brute is hardier than a federal Tory in Toronto. It has survived being frozen, clubbed or shipped without water from China.
The Ontario Federation of Anglers and Hunters has a website, invadingspecies.com, with a hotline.
Or, call Chief Brody.
And get a bigger boat,"
~
My point? If we found a fossil of this thing it would be classified a fishapod. But it exists now. Heck, so does the coelecanth! In fact, so many "Lazarus" organisms (thought extinct but now found alive) are extant that the entire evolution chart should be ripped to shreds by now. Sure, a few things like crocodiles existing pretty well unchanged might be expected but if dozens of so-called ancestors of modern animals are found to exist still, then the creationist assertion that there are various species of basic kinds rather than a continuum of emergent new kinds as claimed by Darwin frankly makes more sense. It seems no matter what is discovered in the fossil record the Darwinists do the soft shoe and revise their talking points to include it.
Tuesday will come a post on Baraminology that will hopefully clarify the fact that Darwinists have taxonomy backwards, sideways and upside down wrong.