Piltdown Superman is always digging up great material and making worthwhile posts. As a Rocky Mountain Creation Fellowship member and a big fan of evidence over fairy tales, I just have to share this with you. But frankly there are hours worth of information here. This one post could be an entire weekend of study for the interested party. The work required to cull these resources together is remarkable! Real Science Radio is on the links list now for sure!

After you read this, you perhaps will begin to agree with me that Darwinists are hiding evidence and hindering the advance of real science! As the article asserts:
"- decades wasted when research into the
alleged vestigial organs
was discouraged
- many years wasted when research into
alleged Junk DNA
was discouraged
- a century and a half of additional decomposition of fossil soft tissue that has forever been lost to science, all because of that same stifling evolutionary bias."
Date: May 17, 2013 Length: 28:20
1993 - Science
:
Dino DNA: The Hunt and the Hype
reports that
"biology graduate student"
Mary Schweitzer discovered what appeared to be
T. rex
"red blood cells in blood vessels."
From a bone provided by
"paleontologist Jack Horner"
, she had "extracted a molecule that
might
be dinosaur DNA." Of course they realized that it could also be DNA from contamination from some other source. But fast forward twenty years and Schweitzer's 2013 paper in the journal Bone
provides
powerful evidence for the presence of dinosaur DNA! This Science Research News article also reports:
"Horner suspects the bones are thick enough to protect their internal cellular structure--and perhaps their genetic material--from water and oxygen..."
But are the bones thick enough to protect such complex molecules from minor temperature variations and the randomizing effects of molecular motion?
"

The fact that DNA sequence can be obtained from fossil organisms

has opened new windows of opportunity for research… Recently, S. R. Woodward, et al. sequenced DNA from… bone fragments apparently from a dinosaur… However, the likely source of those DNA sequences appears to be human contamination. [However] support has been presented for other findings of

DNA surviving for millions of years

(10)…"
"…analysis of

extracts from the bone tissues revealed

the presence of

molecules

with light absorbance maxima

consistent with nucleic acids and peptides/proteins

. Analyses of bone extracts for amino acid content yielded ratios similar to those found for modern ostrich and horse bone. … bony tissue samples from the T. rex suggests the presence of collagen type I remnants. … … bony tissue samples from the T. rex suggests the presence of collagen type I remnants. Results indicate that the analyzed tissue contains numerous biomolecules. While

some of the biomolecules are most likely contaminants

, the probable presence of collagen type I suggests that

some molecules of dinosaurian origin remain in these tissues

."
"The field of molecular

palaeobiology

was initiated in 1954, when Abelson successfully recovered ancient

amino acids from fish

dating back from the Devonian period" [400 mya].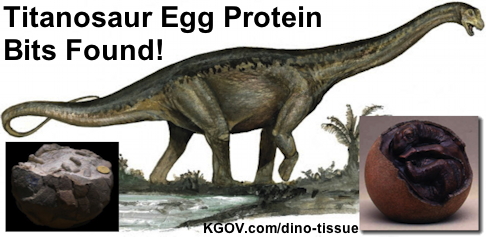 "Exceptionally preserved sauropod eggshells discovered in Upper Cretaceous… in… Argentina, contain skeletal remains and soft tissues of embryonic Titanosaurid dinosaurs. …mineralization may also have been rapid enough to retain fragments of original biomolecules in these specimens. To investigate preservation of biomolecular compounds in these well-preserved sauropod dinosaur eggshells, we applied multiple analytical techniques.

Results demonstrate organic compounds and antigenic structures similar to those found in extant eggshells

."
Traces of protein have survived for more than 70 million years in dinosaur eggs from Argentina. They bear strong similarities to proteins from chicken eggs. … The eggs were laid by massive long-necked plant-eaters called titanosaurs. Buried by floods, the eggs fossilised unusually fast,

preserving the soft tissues

and tiny bones within.
"…

soft tissues could be preserved in the fossil record, not just by replacement

…

but as intact structures retaining flexibility

and resilience. …additional fossil material, including other tyrannosaurs [and] hadrosaurs… indicates that this is

not an isolated phenomenon

. The challenge of trying to manipulate, process and analyze vessels and cellular structures millions of years old is not a minor one. … We have tested a variety of methods for… extracting

soft tissue

and cellular structures… to characterize

preservation at cellular and sub-cellular levels

."
"We used mass spectrometry to obtain

protein sequences from bones of a… 68-million-year-old dinosaur

(Tyrannosaurus rex). The presence of T. rex sequences indicates that their peptide bonds were remarkably stable."
This paper generated much controversy, as colorfully
reported
by Wired, which concludes,
"Asara and Schweitzer, in other words, have done just what the critics asked. They've built a rigorous scientific case for the survival of 68 million-year-old proteins from a beast that animates children's imaginations."
"

Soft tissues and cell-like microstructures

derived from skeletal elements of a well-preserved Tyrannosaurus rex [include] transparent, hollow and

pliable blood vessels

; intravascular material, including in some cases, structures

morphologically reminiscent of vertebrate red blood cells

; and

osteocytes

with intracellular contents and flexible filipodia… in bone from specimens spanning multiple geological time periods [to 70+ mya] and varied depositional environments. … the surprising presence of

still

-soft elements in fossil bone… suggest that… soft tissue elements may be more commonly preserved… than previously thought."
"…explain the detailed preservation of still-soft, transparent, hollow and flexible tissues and cells over geological time, given that natural processes such as decay and degradation… and chemical and/or enzymatic degradation (Lindahl 1993; Riley & Collins 1994; Collins, et al. 2000, 2002) act in concert to

rapidly degrade

both the molecules and the tissues they comprise."
And
"structures observed in most fossil specimens are similar in morphology, size, location and content to erythrocytes [red blood cells] observed in related extant [still living] taxa [group of animals]."
The paper also describes the original biological material in
"Sue,"
the largest and best preserved Tyrannosaurus rex ever found, now permanently exhibited in Chicago's Field Museum of Natural History. From Sue: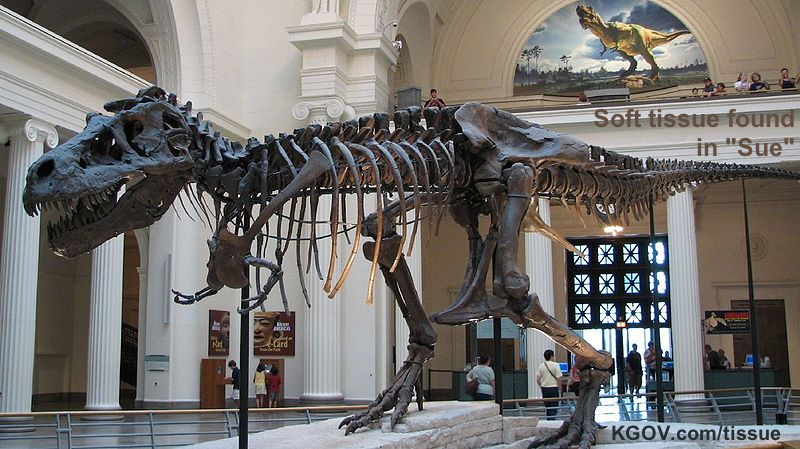 "Small regions of soft tissue were recovered," and "Osteocytes with long filipodia and distinct, well-defined 'nuclei' were restricted to pliable regions of matrix…"
"Hollow, transparent and flexible vessels [which] were slightly pigmented" and its "Osteocytes… had pigmented elongate cell bodies, some with internal contents and short, stubby filipodia."
"As arguably the most labile and easily degraded of the structures we observed,

the presence of soft vessels is enigmatic

. They are neither biomineralized nor have any obvious inherent characteristics that would favour preservation…"
"The possibility that microbes may have invaded bone and vascular channels after death, secreting extracellular polymeric substances (EPS) that subsequently mineralized, was also considered. If deposition of mineral upon microbial biofilm allowed retention of flexibility in one case, it is feasible to propose that the same process contributed to the preservation of the original vessel walls."
"We performed multiple analyses of

Tyrannosaurus rex

(specimen MOR 1125) fibrous cortical and medullary [pregnancy-related bone] tissues remaining after demineralization. The results indicate that

collagen I, the main organic component of bone, has been preserved

in low concentrations in these tissues. The findings were

independently confirmed

by mass spectrometry. We propose a possible chemical pathway that may contribute to this preservation." And the team considers the implications of the "presence of

endogenous protein in dinosaur bone

…"
…collagen [type] I has unique characteristics… making validation of its presence relatively straightforward.

This finding suggests that the bone mineral is virtually unchanged from the living state and has undergone little if any alteration. … the elasticity of dinosaur tissues was similar to that of demineralized extant bone.

…bone extracts showed reactivity to antibodies raised against chicken collagen… We confirmed the antibody reactivity data by in situ immunohistochemistry…

Additionally, antibody reactivity (Fig. 2J) was significantly decreased after we digested dinosaur tissues with collagenase…

Immunohistochemistry performed on sediments was negative for binding.

In situ TOF-SIMS [ion mass spectroscopy] analyses were performed to unambiguously detect amino acid residues consistent with the presence of protein in demineralized MOR 1125 [

T. rex

] tissues.

Sandstones entombing the dinosaur, subjected to TOF-SIMS as a control, showed little or no evidence for these amino acids.

… that molecular fragments of original proteins are preserved in the mineralized matrix of bony elements of MOR 1125 is supported by peptide sequences recovered from dinosaur extracts, some of which align uniquely with chicken collagen… The amount of protein or protein-like components… was ~0.62% for cortical bone and 1.3% for medullary bone.

Additionally, experiments have been conducted independently in at least three different labs and by numerous investigators, and the results strongly support the endogeneity [internal origin] of collagen-like protein molecules. -Science 2007, Schweitzer, et al.
The presence of original molecular components is not predicted for fossils older than a million years…


-Science 2007, Schweitzer, et al.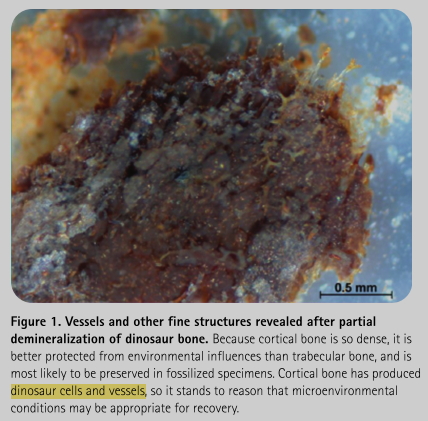 "The

preservation of proteinaceous materials

over millions of years has caused paleobiologists to reconsider current models of fossilization. … Conventional wisdom held that, under normal circumstances, decomposition occurs so rapidly and completely that, after a relatively short period of time, no molecular fragments (let alone cells or tissues) would remain. However, the observation of these components in multiple specimens of geological age,

supported by amino acid sequence data from collagen preserved

in the skeletal elements of

T. rex

, provide evidence for molecular preservation over millions of years."
"bacterial biofilms… mimic real blood vessels… This explanation... represents a plausible alternative hypothesis."
"discovery of soft, pliable tissues recovered from...

Tyrannosaur

[involve] preserved biomolecules [of] preserved dinosaurian soft tissues [which if true would hold] the promise of biologic investigations of extinct animals."
From the paper:
"The hollow [voids] of the tyrannosaur femur supported the general idea that an exceptionally well-preserved bone may act as a containment vessel for biomolecules. … To test this concept, a perfectly preserved turtle phalange [finger bone]... was pressure fractured and directly examined...."
...demineralized specimens... displayed small red spheres clustered in the tubular structures (Fig. 4A). Discovery of these spheres in an ammonite [extinct mollusk] suture [a rigid joint] indicated they had no relationship to iron derived from blood. … The second structure category consisted of soft, pliable, branching tubules with morphology closely resembling blood vessels."
Regarding the claim of Kaye's 2008 paper, for the bacteria to help preserve the endogenous tissue requires its presence contemporaneously or shortly after the animal's burial. This timing might be inferred also because these species of bacteria might prefer to be feeding on the decaying animal carcass. (Salzberg and Kaye's still unfinished 2011 JVP paper might help here.)
Recent discoveries [Genome-based identification… of collagen-related… motifs in bacterial… proteins] of collagen-like proteins in bacteria and viruses [17] add to the problem of unambiguous identification of vertebrate biomolecules."
Apparently, many atheists believe that this (and perhaps the Salzberg 2011 unfinished paper) has refuted all the soft-tissue finds, protein sequencing, immunological tests, etc., from specimens extracted from various dinosaurs (and all the other reported dinosaur-era soft-tissue finds). But a dozen institutions both before and after this 2008 paper, disagree and continue to publish their confirmations.

2009 - Science
:
Biomolecular Characterization and Protein Sequences of the Campanian Hadrosaur B. canadensis
by Schweitzer in a group of sixteen authors from North Carolina State, Harvard University, Montana State, Boston's Beth Israel Deaconess Medical Center, Dana Farbar Cancer Institute, London's Matrix Science Ltd., Bozeman's Museum of the Rockies, Harvard-MIT Division of Health Sciences and Technology, and Harvard Medical School.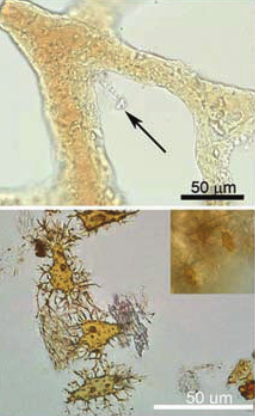 These authors report finding original biological tissue in the leg bone of a Hadrosaur, i.e., a duck-billed dinosaur:
"Microstructural and immunological data are consistent with preservation of multiple bone matrix and vessel proteins..."
"...phylogenetic analyses of Brachylophosaurus collagen sequenced by mass spectrometry robustly support the bird-dinosaur clade…"
2010 - Proceedings of the National Academy of Sciences
:
Archaeopteryx feathers and bone chemistry fully revealed via synchrotron imaging
by Bergmann, et al. [a non-Schweitzer group of eight authors from Stanford Nat'l Accelerator Laboratory, the Middle Waters Institute, University of Manchester, University of Pennsylvania, and the Black Hills Institute].
These authors report finding original biological material feathers in an
Archaeopteryx
fossil from the Solnhofen limestone, although only enough to make identification of the appropriate compounds at the appropriate parts of the animal's anatomy including skull, claws, feathers, feather shafts, postcranial skeleton, and teeth. They report:
"…striking and previously unknown details about the chemical preservation of soft tissue, elemental distribution patterns most likely related to the organism's life processes, insights into the chemistry of soft tissue, elemental distribution to the organism's life processes…



Most striking is that, in addition to the bone material,

the chemical remains of the rachises (shafts) from the flight feathers are now revealed

: The P [phosphorus] distribution is clearly controlled by both bone as well as soft tissue remnant from the original organism. Although phosphatized muscle tissue has been re-ported from the Solnhofen (21), the phosphorus and sulfur levels responsible for the rachis images presented here do not require the addition of P or S from elsewhere.

…iron zoning in the feathers... is probably NOT an original feature of the organism. [However] the

evidence strongly implies that the

rachises

[feather shafts] are at least in part the chemical remains of the original organism

.

…the high zinc levels in the Archaeopteryx bone have been inherited from the original organism.

…phosphorous point levels measured from the [feather shafts] ... strongly supporting the inference that

part of the feather chemistry is preserved

.

Zinc apparently was present in appreciable concentrations in the original bone (as in many extant organ-isms) and has been well

sequestered

within the bone

over 150 million years

of burial.

Other work (31) thus supports our most striking result: that elevated Zn levels associated with the skull and other bones have persisted over geological time and most likely, along with phosphorous and sulfur, are

remnants of the original bone chemistry

.

Ca [calcium] removal from some parts of the Archaeopteryx is negligible…

…feather barb patterns are not merely topographic impressions…"
Preservation of GROSS soft tissues is extremely rare, but recent studies have suggested that primary soft tissues and biomolecules are more commonly preserved within preserved bones than had been presumed.

Some of these claims have been challenged... suggesting that some of the structures are microbial artifacts, not primary soft tissues.

The identification of

biomolecules in

fossil vertebrate extracts from a specimen of

Brachylophosaurus canadensis

[Hadrosaur] has shown the interpretation of preserved organic remains as microbial biofilm to be

highly unlikely

.

This study experimentally

examines the role of microbial biofilms in soft-tissue preservation

…

The identification of biomolecules with vertebrate signatures[2,3] in the extracts from fossil vertebrates provides

compelling evidence countering the argument that these structures are simply microbial biofilm

[4].

both primary soft tissue and microbial biofilms are composed of organic carbon, control samples and biofilm samples possess a similar EDS signature that is unreliable for differentiation. However, primary

soft-tissues in control samples are morphologically different from biofilm

samples.

Primary soft- tissues analyzed by SEM show red blood cells and vessels at relatively low magnifications

(<100x 6="" at="" biofilms="" bones="" font="" igure="" magnifications="" on="" shows="" similar="" smooth="" surfaces="" undulating="" whereas="">

Phosphatized soft-tissues in the basal ornithimimosaur [sic, bird-mimic ostrich-like dinosaurs],

Pelecanimimus polydon

, have also been described in the form of muscle and skin [25]. The results of this study strongly suggest that

microorganisms play a role in the preservation of primary soft- tissues

in vertebrate organisms,

without extensive secondary mineralization. … biofilms may directly enhance the preservation of vertebrate primary soft-tissues

. ...exquisite preservation of pliable soft-tissues may be related to a microbial masonry process whereby the formation of microbial biofilms wall off internal surfaces of bones during early taphonomic stages.

The claim of the presence of primary soft-tissues in fossil vertebrates has been supported by the identification by mass spectroscopy of biomolecules in the form of

collagen and [other] proteins

...100x>
A great paper, but the authors failed to report something that should be routine, the carbon 14 date of their specimens and the percentage of right and left-handedness of the amino acids.
"…direct spectroscopic characterization of isolated fibrous bone tissues, a crucial test of hypotheses of biomolecular preservation over deep time, [previously] has not been performed. Here, we demonstrate that

endogenous

[originating from the mosasaur itself]

proteinaceous

[pertaining to protein, biological]

molecules are retained in

a humerus from

a Late Cretaceous mosasaur

(an extinct giant marine lizard). In situ immunofluorescence of demineralized bone extracts shows

reactivity to antibodies

raised against type I collagen, and amino acid analyses of soluble proteins extracted from the bone exhibit a

composition indicative of structural proteins or their breakdown products

. These data are corroborated by synchrotron radiation-based infrared microspectroscopic studies demonstrating that

amino acid containing matter

is located in bone matrix fibrils that express imprints of the characteristic 67 nm D-periodicity

typical of collagen

. Moreover,

the fibrils differ significantly in spectral signature from those of potential modern bacterial contaminants, such as biofilms

and collagen-like proteins. Thus,

the preservation of primary soft tissues and biomolecules is not limited to large-sized bones buried in fluvial sandstone

environments, but

also occurs in relatively small-sized skeletal elements deposited in marine sediments

.

...to facilitate comparisons with a relevant modern reference, bone tissue samples from an extant monitor lizard (LO 10298) were prepared in the same way as the mosasaur tissues.

…numerous free- floating, vessel-like structures [from the mosasaur] joined in a discrete network… similar to those previously reported in dinosaurs [6,10]. Associated with the vessel-like forms were cell-like features… and a fibrous substance that, in modern bone, would represent the organic phase of the extracellular matrix; i.e., the osteoid [organic bone material] (Figure 1G). The fibrous organization of the organic matter was demonstrated by optical and scanning electron microscopy (Figures 1A, B and H). Furthermore, application of a standard histochemical dye (Aniline blue) revealed that the fiber-like structures take up stain as does recent connective tissue (Figure 1L)…

Fiber-like forms with a similar typical axial periodicity were also found coiled obliquely around some canal walls (Figure 1K) and are, in modern animals, comprised primarily of mineralized fibrillar collagens (Figure 1J)… The amino acid profiles we obtained have a composition potentially indicative of fibrous structural proteins… such as collagen [19], suggesting that the proteinaceous molecules isolated from IRSNB 1624 [the mosasaur] may contain this protein…

Rationale for excluding fungal growth and animal glue as potential collagen sources: …histological sections of untreated bone revealed that the
fibrous microstructures were deeply embedded… and DNA analyses failed to detect any ergosterol or nucleic acids attributable to fungi…

…the amount of finite carbon was corresponding to

4.68%

+/- 0.1 of modern 14C activity (yielding an age of 24 600 BP), and most likely reflect bacterial activity near the outer surface of the bone (although no bacterial proteins or hopanoids were detected, one bacterial DNA sequence was amplified by PCR…)"
"Eleven collagen peptide sequences recovered from chemical extracts of dinosaur bones were mapped onto molecular models of the vertebrate collagen fibril derived from extant taxa. The dinosaur peptides localized to fibril regions protected by the close packing of collagen molecules…

Four peptides mapped to collagen regions crucial for cell-collagen interactions… Dinosaur peptides were not represented in more exposed parts of the collagen fibril…

Thus functionally significant regions of collagen fibrils that are physically shielded within the fibril may be preferentially preserved in fossils. These results show empirically that structure-function relationships at the molecular level could contribute to selective preservation in fossilized vertebrate remains…

This non-random distribution supports the hypothesis that the peptides are produced by the extinct organisms…

Type I collagen peptides were extracted and sequenced from ~68 million years old fossils of

Tyrannosaurus rex

... despite multiple lines of evidence to support the presence of collagen, including in situ antibody binding, the endogeneity of MOR 1125 peptides was disputed, and the sequences instead were suggested to arise from either microbial invasion [19], extant collagens introduced in laboratory experiments [2], or even statistical artifact [3]. Collagen peptide sequences were subsequently derived from a second dinosaur,

Brachylophosauraus canadensis

(MOR 2598) [9], and included many of the earlier lines of supporting evidence as well as independent replication of data in multiple labs. Surprisingly, advances in collagen biology also support the authenticity of the fossil peptides. The molecular structure of collagen favors preservation.

Our results add to the evidence provided by sequence data…, molecular phylogenetic analyses…, microstructure… and immunoreactivity to anti-collagen antibodies… that supports persistence of elements of native collagen fibril structure…"
"The idea that endogenous soft tissues are preserved in Mesozoic fossil bone remains contentious after 6 years of research. Here, full characterization of DNA is reported using 'Metagenomics' techniques from a section of

Brachylophosaurus canadensis

[hadrosaur] fossil, JRF 56, from the Judith river formation near Malta, Montana. Soft tissue structures similar to those reported as dinosaurian blood vessels and bone cells are observed…

Previous studies have focused on long-lasting proteins since it is generally accepted that DNA can not survive such time scales. Here metagenomics data is presented that identifies ALL the DNA in the sample giving proportionate rank of endogenous molecular species.

The sample was processed to isolate organic remnants from the intravascular cavities of the fossil's cortical bone, excluding possible contamination from sediments on the bone surface.

DNA from various species of bacteria, plants, fungi, and chordates was detected in the bone

and therefore longer lasting proteins from these species can be expected. Critically, avian

molecules identified as modern bird DNA were found

in the organic isolates [including chicken apparently; and an allegation, reasonably leveled since Schweitzer used ostrich material as a control, that she contaminated her specimen with ostrich DNA and hemoglobin.].

Bacteria DNA provides support for the production of biofilms within the fossil…

The presence of modern bird and other chordate DNA provide a large analytical obstacle to identifying possible endogenous molecules.
"We interpret the feather's dark trace to be a

melanic organosulphur residue

, based on the following.

First, we detected no manganese among nine point analyses throughout the feather, indicating that preservation was

not due to precipitation of the inorganic mineral

, manganese dioxide (MnO2), as has been suggested…

Second, a

potential organocopper biomarker for melanin was previously detected

in this specimen; this biomarker has also been correlated with the presence of melanosomes in three fossil bird taxa. We hypothesize that melanosome structures fossilize simply by virtue of being solid aggregations of melanins… resistant to degradation.

Third, the dark trace is associated with sulphur, which may have derived from the sulphur-rich feather keratin and crosslinked with the melanin; this is consistent with the sulphurization mechanism responsible for high-fidelity organic preservation in the fossil record."
"In contrast to previous studies of organic residues based on extracts obtained by decalcifying [demineralizing] samples of bone, our approach targeted particular tissues in situ... This made it possible to detect the preservation of organic residues, probably direct products of the decay of complex proteins, within both the fast-growing embryonic bone tissue and the margins of the vascular spaces... This is indicated... by both infrared... and Raman spectroscopy...

Previous reports of preserved dinosaur organic compounds, or 'dinosaurian soft tissues' have been controversial because it was difficult to rule out bacterial biofilms or some other form of contamination as a possible source of the organics. Our results clearly indicate the presence of both apatite and amide peaks within woven embryonic bone tissue (Fig. 5a) [see above image], which should not be susceptible to microbial contamination or other post-mortem artefacts."
"A recent paper by Allentoft et al. (2012) [Proc. Royal Soc. B] hypothesizes a half-life for DNA of ~521 years in an optimal depositional environment, suggesting that DNA should be degraded to single bases by a little under 7 million years, even though they also state that "considerable sample-to-sample variance in DNA preservation could not be accounted for by geologic age". Their half-life estimate was based upon extrapolations of data taken from >150 relatively recent Holocene bones (less than 10,000 years old). Fossils older than this were not examined for DNA. All of our assays require at least 4 or more bases to generate reactivity... Therefore we suggest more rigorous testing of extrapolation models on actual fossil material from older specimens."